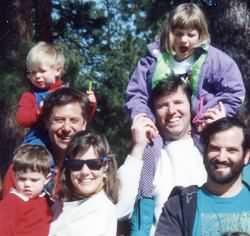 Front row: Jack Moran, Berta, Steve Law
Middle: Jack Friedman, Ken Moran
Back: Joey Friedman, Allie Moran, 1993

Ken Moran, Allie & Jack
I met Berta Dusenberry in 1978, when she was sharing the Hume St. house with Ginny, Berta, and Dawn. The Photo at left shows this group during our 1987 Rogue River raft trip.
Ken came along in the mid-80s, and he and Berta knew they had each found their soulmate. Before long they had two sweet and athletic kids.
Berta was always at the center of our Portland gang. She's still there in spirit.