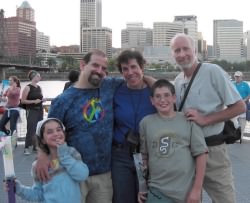 Mona, Steve, Dawn, Gabe, Rick, 2002

Steve Law, Dawn Robbins, Rachel, Gabe & Mona
I've known Steve since 1972 when he came to Antioch College. When he moved to Portland in 1979, he shared my house.
I met Dawn in 1978, when she was sharing the Hume St. house with Ginny, Berta, and Sue. Dawn and Steve didn't "get together," as they say, for several years. Now it's hard to remember they existed seperately.
Often confused with the symbol for anarchy, the "A" at left is actually the logo for Antioch College. The orange circle represents a basketball. In the late 70s and 80s it was common to find our Portland gang in an impromptu co-ed basketball game, usually in a SE Portland schoolyard.
Steve is a Boys' Night Out guy.