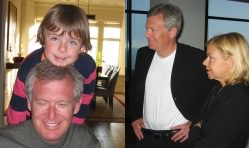 Skip & Katy, Skip & Meg, 2002

Skip, Meg & Katy Herman
I've known Skip since 5th grade, when he transfered in to Parker School in Chicago. Katy goes to Parker now.
In high school, we ran around with Gardy Stern in my baby blue beetle, including the forty-minute-special "FMS" lunch, which crammed in a stop at McDonalds and eating at Gardy's house while watching Let's Make a Deal.
Since the 80s, I've been Skip's guest for an annual ski weekend in Vail, which has come to be know as Jews on Skis (JOS), and is immortalized in the quilt square here.
Meg and Skip surprised their guests by getting married in front of the main entrance to Wrigley Field in Chicago. You can also see the park from their apartment. This isn't to say that he's Cub-obsessed, but fan is short for fanatic...