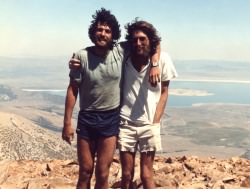 John Pacht & Michael Kerner, 1981
John Pacht, Andrea Bayer, Emily, Solly & Elana
John joined us in our second year at Antioch: 1972. He had known Michael since 7th grade. John officiated at our wedding.
The pictures, starting in the upper left: John's 40th b'day suprise; Rick & John in '81; our music & wine mentor, Prof. Ronsheim, pouring wine; Rick, John & Michael before our '98 backpack; John & the Oregon gang in '81; and Anne & I visiting Andrea & John in Vermont, '01.
Andrea entered the picture while she & John were in law school. Together they are raising 3 bright and talented kids. Their home in Vermont is a regular draw for me.
"I'll keep trying to live, until I'm ready to die," from a hammy Edgar Winter song and "I believe when I fall in love this time it will be forever, " from Stevie Wonder were both sung often and loudly in college.