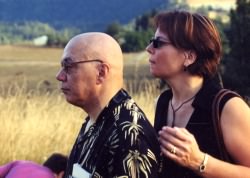 Bobby & Carole, our wedding, 2002
Bobby Torres & Carole Engel
I met Bobby in 1984, when he was in Tom Jones' touring band. During breaks from the road, Bobby began to volunteer to learn video production. Soon we were working on music and dance videos together.
As friends, we've shared good times and bad. In particular, the loss of parents and close friends.
Carole is the design maven. Her experience with textiles shows in this square. She also designed Bobby's CD.
Bobby uses the computer to compose and arrange music. when we can keep it going.
Info on Bobby's band, the Bobby Torres Ensemble, can be found at our website, bobbytorres.com. Check it out and buy his new CD!
"You gave me the World with your Heart."