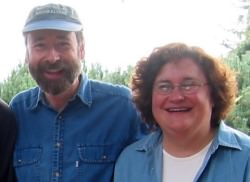 John & Rose Yandell
I've known John & Rose since the early '80s when we worked together in the local TV department of the cable company. Later we all three worked together at MCTV, a non-profit TV studio and at SmartStuff Software.
We've wandered many a Oregon country road in search of wineries. We've shared great meals featuring our fine wine finds.
They host a great Summer croquet party! John is a member of my monthly Boy's Night Out gang.
As you might have guessed, Rose has actually worked on quilts before.