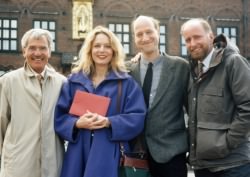 Tine's Dad, Tine, Kage & Rick, 4/8/95
Kage Glantz & Tine Jolander & Ella
Grousing at the world series in 1978, that's my first memory of Kage.
Traveling, birding, cooking, drinking red wine, throwing parties, playing basketball in the 11 PM shadows of a schoolyard, these are the memories we created.
Kage writes under the name Ken Chowder (website by Rick), with novels, documentary film scripts and numerous articles to his credit.
4/8/95 was Tine and Kage's wedding day in Copenhagen, Denmark. The entire wedding party is pictured above. (Although there was a fun and larger party the next day.) Rick E. is how Kage writes and says my name. We don't know why. Tine's textile training shows in this square made of felt.
Ella is their beautiful and fun daughter.